Magna Carta Lodge No. 8017
Date of Warrant, 10th February, 1965. Consecrated, 3rd September, 1965.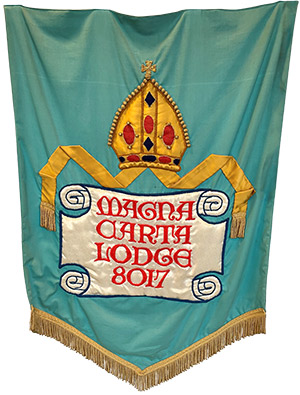 Major growth in Bury St Edmunds commenced in the 1960's when new businesses arrived and existing companies expanded.
Freemasons who had moved into the area found that it was almost impossible to join the two established Lodges, The Royal St Edmunds, No.1008 and The Abbey, No.1592, who, being already oversubscribed, were often unable to seat their own members – let alone visitors. It was apparent that a new Lodge should be formed and ten members of Royal St Edmund's Lodge, four from Abbey Lodge, and three from Mildenhall joined with newly arrived Masons to form a new Lodge, to be known as Magna Carta.
The Lodge was consecrated in September 1965. One of the major problems confronting the Founders was that as the membership was drawn from several different Lodges, each with their own version of ritual, establishing the new 'Magna Carta ritual' made for some interesting and amusing incidents at the Lodge of Instruction.
It therefore appears that the new Lodge was wise to adopt the Nigerian Working of Emulation Ritual, because it would be the most easy to be assimilated within the group of differing persuasions its members were familiar with.
The prior experience of the Founders enabled them to build the 'Magna Carta Ritual Specifics' based on the combination of the 'Best Practices' they brought with them from their Mother Lodges.
It follows that their previous experience caused them to ensure that Initiates and Joining Members, who have not been through the 'Chair' in any Lodge, would have an equal opportunity to advance through the Progressive Offices. For many years, the Lodge has seen a steady influx of Initiates and Joining Members and this combined with the good support, received from senior Brethren at the Lodge of Instruction, has produced excellent relationships and healthy spirited competition amongst the junior Brethren. At the meeting held on 15th October, 2019, Brother Eduardo Miquel Dos Santos Ferreira (Mike), who is a descendant of a prominent Masonic family in Portugal, was Passed to the Degree of a Fellow Craft.
Brother Mike is a local antiques dealer and found a printed copy of the Magna Carta on his travels and wanted to present it to the Lodge. The Lodge Secretary arranged for it to be framed and for a suitable inscription to be added, before it was presented to the Master, W.Bro. S. B. Bowers.