SOLEA LODGE, No. 9498
Date of Warrant, 9th December, 1992. Consecrated, 7th April, 1993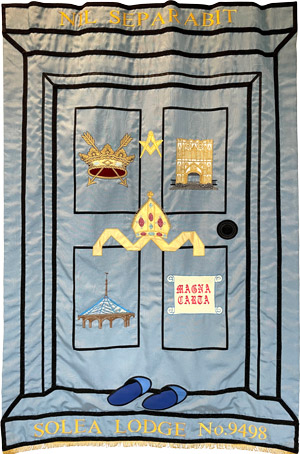 The background to Solea Lodge being formed is that the founder members were Masters-in-Office in other Bury St Edmunds Lodges who enjoyed each other's company together visiting each other's Lodges, building long-lasting friendships which they cemented by meeting socially and styled themselves 'the slipper club' after their habit of taking carpet slippers with them when visiting each other's homes.
One of their aims was to speed up progression through to the Master's Chair which was taking up to 15 years locally. Today the Lodge still encourages younger Brethren to progress to the Chair. The Lodge has long been committed to an annual social programme comprising a Family Christmas Luncheon always attended by Santa bearing gifts for all the children present.
There is also an Easter family lunch where every family is asked to bring a chocolate Easter Egg; these egg are then presented to the residents of Cornwallis Court.
The Master is encouraged to hold a ladies' night in whatever format the Master's wife prefers. There is an annual competition with Mildenhall Lodge for the Rodwell Cup, so named after a founder member, Peter Rodwell. The format of the competition is in the hands of the previous year's winning Lodge which in recent years has seen pool, field archery and even kart racing.
A very special evening was enjoyed on Tuesday, 26th November, 2019, when a new set of Tracing Boards, which had been donated by Brother Vikas Bhalla, were Dedicated by the Provincial Grand Master, R.W.Bro. I. J. Yeldham. The original Tracing Boards dated back to the Consecration of the Lodge in 1993 and were simple black and white photocopies created by repeatedly enlarging copies of smaller images and much of the original detail was lost.