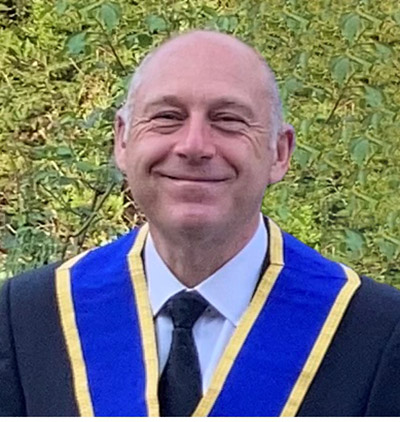 Brethren, this Report concludes my first full year as Chairman of the Board of Directors of the Masonic Hall Company.
During this period, I am delighted to say that the Board has been further enhanced by several experienced brethren, who have agreed to join the Board. These include Paul Rayner, Karl Hortt and David Barker together with Nigel Gregory (our Group 3 Representative), who has also joined us as a non executive member, all of whom bring a wealth of experience and knowledge.
After having served five years as a Director, Oliver Coote recently stepped down and our grateful thanks go to Oliver for all the time and effort which he has contributed during this period.
As you can imagine, the last two years have been a very turbulent time for the Masonic Hall Company, brought on by the ravages of the COVID 19 pandemic. This has caused not only the abandonment and cancellations of our meetings but, additionally, the loss of most of our external bookings. Inevitably, this has led to a dramatic fall in our income. Throughout this period, our aim has been to stabilise the finances. This has been significantly helped by government support, by way of Small Business Grants and Furlough Payments. Consequently, we have been able to offset some of the losses of income, as well as to retain and support our valued staff during this time of uncertainty.
Hopefully, we are now starting to see the end of most, if not all, of the restrictions with which we have been living over this extended period and this will, undoubtedly, have the positive effect of an increase in both external bookings and attendances at our meetings over the coming months. However, it is anticipated that this will, inevitably, be a very gradual process by way of a return to the pre pandemic levels which we previously enjoyed.
Despite these difficulties, I am pleased to be able to tell you that, throughout this period, the Board has been able to continue with all the essential maintenance and repairs previously outlined in the Ashlar House Herald. In addition we have seen the completion of the newly constructed Remembrance Garden. All these projects would not have been possible without the help of many volunteers generously donating their time and skills.
Without doubt, the main challenge which the Board has faced has been the refinancing of our borrowings totalling £427,796.50, including interest payable.
Brethren will, no doubt, recall that both the original purchase price of Ashlar House and the subsequent development costs were funded by the sale of the premises in Churchgate Street, together with generous loans made by a number of members.
A large proportion of these loans became repayable in May 2021, with another large repayment falling due in May 2022. As a direct result of our inability to trade, we lacked the necessary funds to enable us to make payments as we had envisaged. We therefore engaged an Independent Financial Adviser to investigate the possibility of arranging commercial funding to meet these obligations. However, this did not prove successful, owing to our continuing inability to trade.
Nevertheless, I am now delighted to be able to tell you that we have been able to secure a single loan on the same terms as our previous loans, over an eight year period which has enabled us to fully repay our existing creditors. Our sincere thanks go to all those brethren who made loans enabling our vision of Ashlar House to be realised.
Going forward, it is our intention to keep you all fully updated on our outstanding financial commitments. In addition, we hope that, following the conclusion of the Festival, both individual brethren and Lodges and Chapters and all those masonic bodies using the facilities will be keen to help us to discharge our borrowings and to further enhance our wonderful facilities, for the benefit of all of us. We can all help in that regard. Please watch this space!
Other developments have included the engagement of an external Marketing and PR resource to devise and implement a marketing plan for the next 12 months, concentrating on advertising via social media (Facebook, Instagram and Twitter), together with press releases via magazines and targeted email marketing campaigns, with the mandate of increasing our exposure and thus the levels of our external bookings.
Our website is currently being upgraded and this will also see a rebrand of our logo. Together with the introduction of a secure members' site, which will provide helpful information and regular news from the Board of Directors, these updates are scheduled to go live very shortly.
Last year saw the reintroduction of the Social Committee, headed up by Nigel Gregory. The first event, a Summer BBQ, was a huge success and very well attended and further functions are now planned. Please do support them!
I would like to take this opportunity to thank my fellow Directors and Board Members for their invaluable support throughout the year, in particular, Mike Helliar (Company Secretary), Ian Gray (Treasurer) and members of our Social Committee for their help in organising the social events, all of which, I would like to stress is entirely voluntary.
I would also like to place on record my thanks to Camilla, Jane and Gary and all at Roff Caterers for their hard work and continued support at Ashlar House.
Any organisation is only as good as its membership, and your support is always needed. You can help us to grow to by volunteering in so many ways. We always need assistance with all year-round garden maintenance, general maintenance within the building, repairs to the shared masonic equipment and furniture, attendance at social events and promotion of our wonderful venue to family, friends and work colleagues. All of this will ensure our future success, to the benefit of us all.
Finally, the Board Members are always keen both to welcome and encourage your suggestions and to answer any queries which you may have. Please do not hold back!
To see the full Ashlar Herald please click the link.